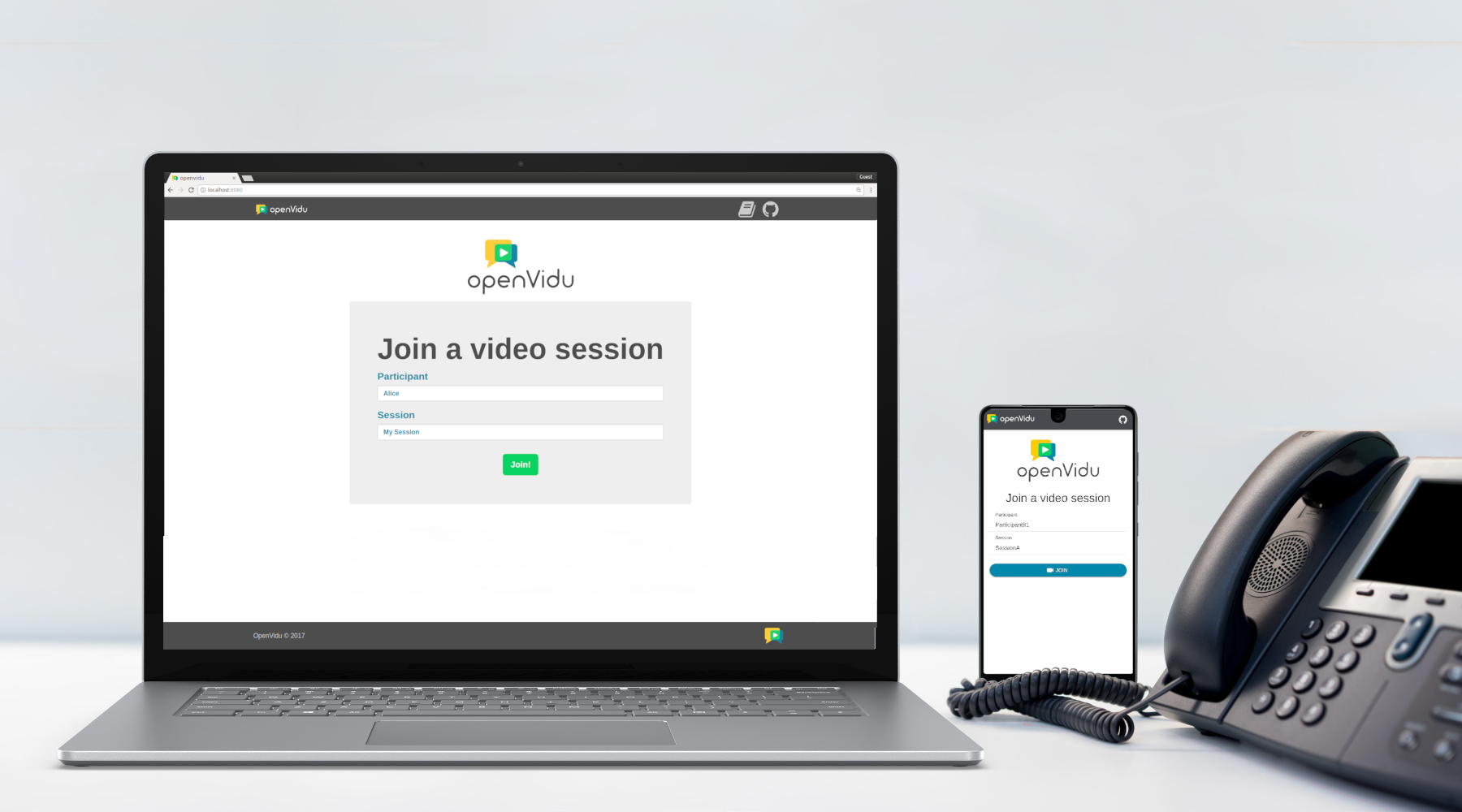 OpenVidu session participants through plain phone calls
We provide a custom server module that allows integrating phone calls in normal OpenVidu sessions as if they were normal OpenVidu participants.
Make phone calls
Set your OpenVidu application to make traditional phone calls. Contact clients or partners even when they are only reachable by phone.
Receive incoming phone calls
Set your OpenVidu application to receive traditional phone calls. Let your clients, partners or providers reach you more easily.
Enable the users to join by phone to your meetings
Allow any participant to join teleconferences by phone and customise the audios that they would receive (all or a subset of the participants)
The telephony integration is provided by a server module to be installed on the OpenVidu Server. This module features a bridge between SIP networks (telephony VoIP) and OpenVidu. It provides a complete REST API that can be consumed by your application to get a very customised behaviour, that would fit your specific use case.
How it integrates with your SIP provider?
It is very easy to integrate with your SIP provider, as it is done by configuration -configuring the SIP gateway-. This will make the SIP enabled OpenVidu session appear as softphone to the SIP network, and it would be able to originate a call or being the destination of one.
---
SIP module is available for OpenVidu CE and OpenVidu Pro and Enterprise that allows getting advantage of the production oriented features of OpenVidu Pro like scalability.
---
Our SIP module has been certified with Twilio SIP service and with FreeSwitch. Other PBX or SIP services are also supported and can be certified on demand.
* This SIP gateway does not feature a PBX with IVR capabilities but can be integrated with existing ones.
1100 €
Community Edition 1 server + 1 year free updates
4800 €
Community Edition unlimited servers + 1 year free updates
0.0004 $
For Openvidu PRO and Openvidu Enterprise per core and minute*
You can find more details in the technical documentation
| | | | | | |
| --- | --- | --- | --- | --- | --- |
| v2.27.0 | | | | | |
| v2.26.0 | | | | | |
| v1.2.2 | | | | | |
| v1.2.1 | | | | | |
| v1.2.0 | | | | | |
| v1.1.0 | | | | | |